Spring in 

the

Smoky Mountains Photography Workshop 2024
Smoky Mountains National Park Photography Workshop
Dates: April 22-26, 2024
Tuition:  $2,495.00
Location: Townsend, TN
Instructor: Kurt Budliger & Benjamin Williamson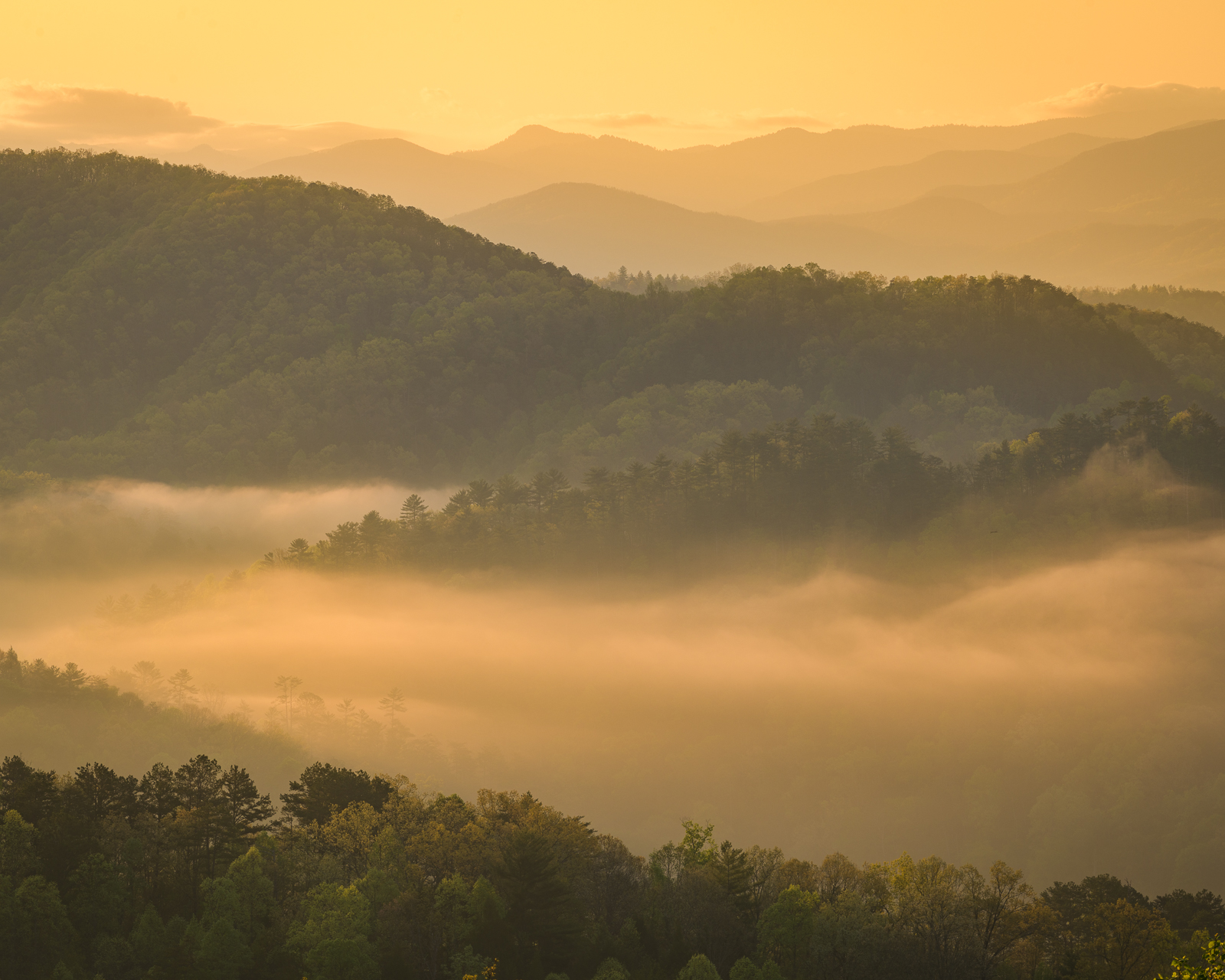 Overview:
Great Smoky Mountains National Park, which straddles the border of Tennessee and North Carolina contains some of the most diverse species of plants and animals in North America.  Nestled in the southern Appalacian Mountains it's home to some of the highest peaks on the east coast of the US.  The diversity of trees species alone makes this an incredible destination for intimate woodland photography and there is no better time of year to visit than springtime.  In addition to endless vistas of fog shrouded ridges in morning light, the Smoky Mountains are home to some of the prettiest and wildest streams in North America, and during spring they are running full and exquisitly framed by flowering plants and budding trees.  There is an incredible diversity of photographic subjects which makes this amazing park a must visit for any serious nature and landscape photographer.
Key Features:
Gain a strong technical and creative foundation in outdoor photography
Learn the importance of "seeing the light," weather forecasting and location scouting
Learn how to use filters in the field to control dynamic range
Learn strategies for making dynamic compositions that have energy and engage the viewer
Learn how to choose aperture and hyperfocal focusing for depth of field
Bring your images to life using Adobe Lightroom and Photoshop (beginner and advanced techniques)
Get individualized instruction and critique in the field as well as classroom
Photograph intimate woodlands and streams bursting with new spring greens
Photograph sunrise and sunsets from rolling mountains and along country roads and farmland
Schedule:
The workshop will kick off on Day one at 3:30 PM in Townsend, TN with a short reception and introductions and then it's into the field we go to make images. There is no "set" daily schedule, rather we keep things flexible in order to best respond to the weather and available light for making images.  Typically, we'll be out for sunrise, shoot until mid morning and then take a break for a meal and brief rest.  We'll convene for instruction, post processing and critique during the mid-day hours when the light is typically less conducive to photography.  We'll then head back out into the field in the late afternoon and evening, ending our session after sunset.  We'll end our time together after our last sunrise shoot of the workshop with plenty of time to return to the hotel for a normal checkout and departure.
Physical Difficulty:
There will be no strenuous hiking involved during the workshop and most locations will be close to the road.  Some locations, however may involve a short hike of less than a mile with no serious elevation gains.  We will be spending a lot of time shooting along streams and waterfalls that will require scrambling over rocks and down hillsides.  The terrain in the mountains can be very uneven and sometimes slippery along streams and rivers.  Hiking boots and a modest level of health and fitness will greatly enhance your experience.  Participants should be able to carry all personal photo gear (backpack, tripod and layers) comfortable for at least 2 miles round trip.
Accommodations:
Participants are responsible for their own lodging, transportation and meals.  Carpooling is encouraged to minimize our footprint as well as foster camaraderie.  A block of rooms has been reserved in Townsend and lodging information will be provided upon registration.
Booking:
A deposit of 500.00 USD is required to secure a space on this workshop.  Final payment is due 60 days prior to the start of this workshop.  There is no refund after the final payment has been made (unless we can fill your spot).  Please see our cancellation policy for more detailed information.