Patagonia – Crown Jewel of the Andes Photo Tour
Patagonia – Crown Jewel of the Andes Photo Tour 2019
Location: Patagonia – Argentina/Chile
Dates: March 31 thru April 10, 2018 (11 nights/10 days)
Cost:  $6,495.00
Group Size: 12 max
Level of Fitness: Moderate
Leaders: Kurt Budliger & Joseph Rossbach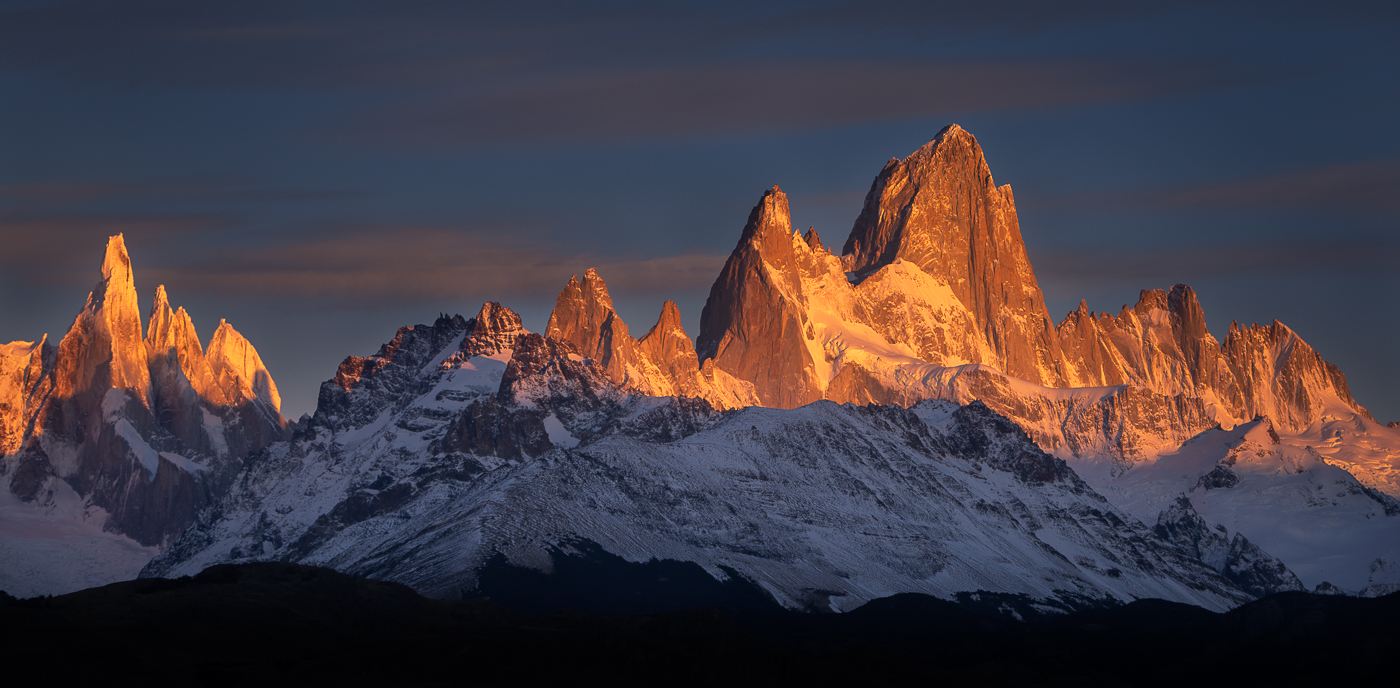 Overview:
The Patagonia region of South America, and specifically Argentina and Chile is home to some of the most impressive and photogenic mountain landscapes in the world.  It's no wonder it's on so many photographer's bucket lists.  Join us for this once in a lifetime adventure to Patagonia where we'll explore and photograph jagged snow capped peaks, mountain lakes, raging rivers, waterfalls and the Patagonian autumn color as it decends from the mountainsides to the valley floors.  You'll experience epic scenery and amazing photographic opportunities everyday during the tour.  You'll also receive expert guidance and photographic instruction from renowed professional landscape photographers Kurt Budliger and Joseph Rossbach.  Whether providing skills and techniques for taking award winning photos in the field or giving you feedback and tips for post processing your images over a glass of wine in the lodge, Kurt and Joe will help you take your photography to the next level. Our tour will begin and end in the Argentinian town of El Calafate.  Our first full day together will be spent exploring and photographing in Los Glaciares NP, specifically the area around the famed Perito Moreno Glacier.  We'll photograph the glacier set against a backdrop of impressvie mountains.  And if we're lucky we'll get a chance to witness numerous calving events as ice peels off and crashes into the water below.  This is also a great place to photograph intimate forest scenes featuring autumn color as the native lenga trees turn from green to orange and red. On Day 2 we'll travel by bus to the charming mountain town of El Chalten which lies in a picturesque valley at the gates to the Fitz Roy Massif.  We'll spend 4 nights and 3 and half days in El Chalten photographing the Patagonia steppe set against the impressive escartment of Fitz Roy and Cerro Torre, as well as numerous glaciers, lakes, rivers and waterfalls. While we're not in the field photographing, the village of El Chalten is a wonderful place to explore in its own right, with myriad shops and lovely cafes and restaurants. After sunrise on Day 6 we'll leave El Chalten and Los Glaciares NP and travel to Torres del Paine NP in Chile, arriving in time for sunset.  We'll be staying at the Hosteria Pehoe on a small island in Lago Pehoe.  The views from the hotel restaurant and lodge are simply some of the most jaw dropping anywhere in the world.  We'll spend 4 nights and 3 full days exploring and photographing in Torres del Paine.  This park features incredible opportunites to photograph stunning mountain ladscapes, including the iconic Cuernos or "horns" of Paine without having to hike far into the backcountry.  We'll also get an opportunity to see and photograph herds of guanacos, andean condors and flamingos. After sunrise on Day 10 we'll depart Torres del Paine NP for our last night together back in El Calafate.  After checking into our hotel and getting a chance to freshen up we'll enjoy a group dinner that evening with a chance to share stories, reminisce and finally say our good byes.  The next morning, April 11 you'll be free to schedule a departure to Buenos Aires or wherever your next adventure awaits.
Itinerary:
Day 0 (3/31) – Arrive El Calafate, Argentina.  Introductions and group dinner that evening. Day 1 (4/1) – Photography excursion to Los Glaciares NP and Perito Moreno Glacier Day 2-5 (4/2-4/5) – El Chalten, Argentina with daily photo excursions in and around Los Glaciares NP, featuring Mt Fitz Roy and Cerro Torre, numerous rivers, waterfalls, and fall foliage photography. Day 6-9 (4/6-4/9) – Torres del Paine NP, Chile with daily photo excursions within the park featuring epic mountain scenery, lakes, rivers, and wildlife Day 10 (4/10) – Return to El Calafate, Argentina for our last night and group dinner.  April 11 depart for Buenos Aires or wherever your next adventure awaits.
Physical Difficulty:
This tour requires a moderate level of physical fitness.  Many of our photo locations will involve a short hike of less than a mile with no serious elevation gains.  Even though we will be in the mountains we will not be at high elevation/altitude, unlike in the rocky mountain west of the USA for example.  There is one morning in Los Glaciares NP when we will hike to a mountain lake with amazing views of Mt Fitz Roy for sunrise (weather dependant).  The hike (optional) is approx 2.5 miles each way, with some elevation gain.  Most everyone agrees it's a highlight not to be missed.  We will be spending a fair amount of time shooting along streams and waterfalls that may require scrambling over rocks and down hillsides.  The terrain in the mountains can be very uneven and sometimes slippery along streams and rivers.  Hiking boots and a modest level of health and fitness will greatly enhance your experience.
Included:
11 nights lodging, based on double occupancy (single supplement $1,500)
Breakfasts
Ground transportation during tour
All guides, permits and park fees
Expert in field instruction by renowned professional landscape photographers Kurt Budliger and Joseph Rossbach
Excluded:
Airfare & transfers
Lunches, dinner and alcohol
Visas (reciprocity fee for travel to Argentina for citizens of Canada and Australia)
Travel/trip insurance
Accommodations:
All tour accomodations are based on double occupancy.  There is an additional charge of $1,500 for a single room supplement.  All rooms include private bath.  Free wifi is available in many of the rooms as well as hotel common areas.  However, the wifi is often not as robust or reliable as it is in the US.
Booking:
A deposit of 2,000.00 USD is required to secure a space on this tour.  Deposits are non-refundable and final payment is due by January 20, 2019.  There is no refund after the final payment has been made (unless we can fill your spot).  Please see our cancellation policy for more detailed information.  We highly recommend you protect your invest by purchasing travel insurance.