Iceland – Land of Fire & Ice Photography Tour
Epic Iceland Photo Tour 2020
Dates: July 20 – 28, 2020
Canceled Due to Covid-19
Tuition:  $5,995.00
Location: Iceland
Instructor(s): Kurt Budliger & Ben Williamson
Overview:
It's no wonder Iceland has become one of the most popular photography destinations in the world.  In one word it's EPIC!  There are countless waterfalls, rivers, quaint rural villages, lush countryside and amazing coastal scenes to photograph.  During this 9 day adventure we'll have the opportunity to explore and photograph it all.  At just 6 participants this small group tour will provide you the most intimate photography experience possible.  Join us for this once in a lifetime adventure!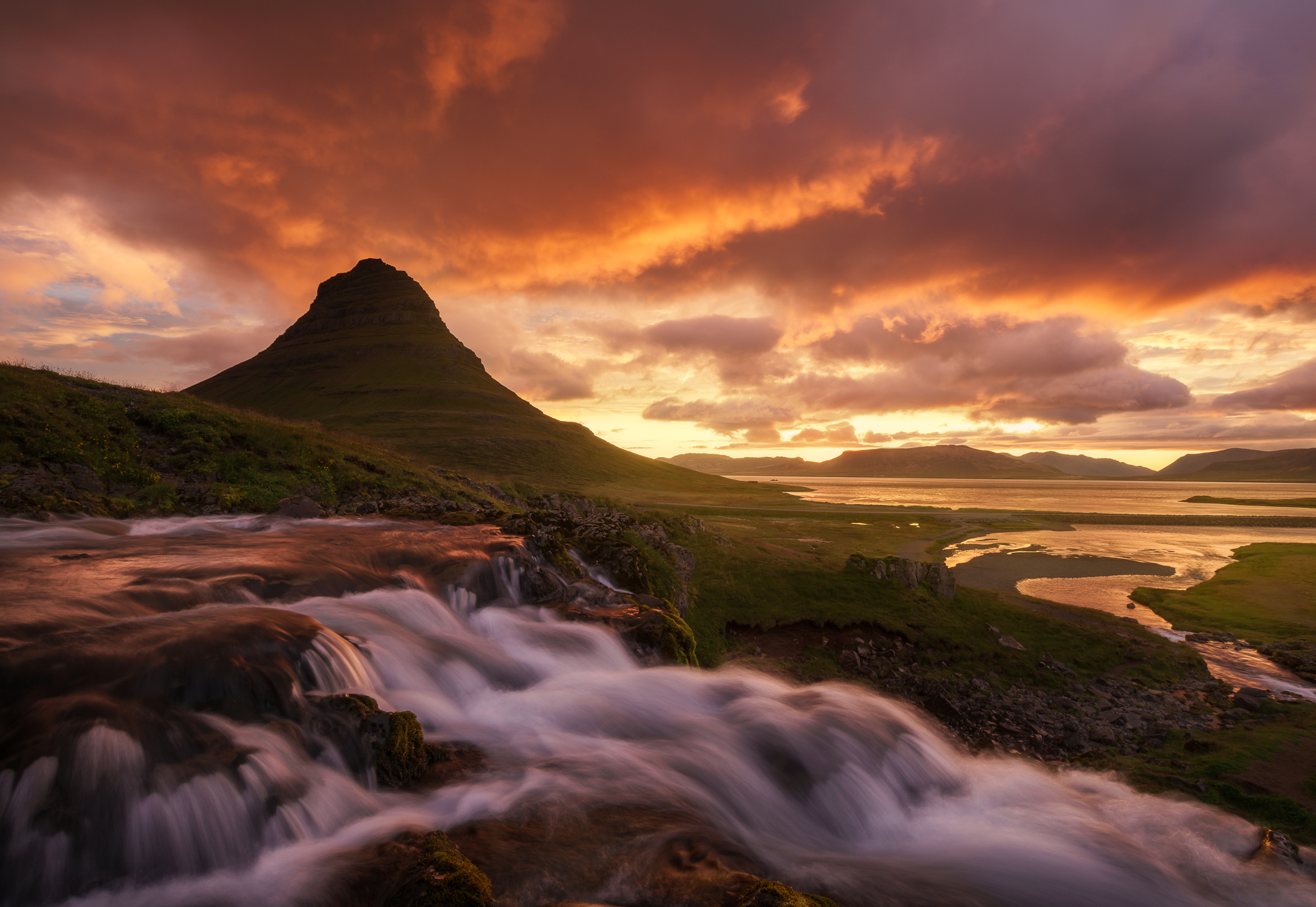 Itinerary:
The tour will begin in the modern and welcoming city of Reykjavik, Iceland.  Participants should plan to arrive by the afternoon of July 20, 2020.  We will end the tour after sunset on the evening of July 28, 2020.  Lodging is included the last night so you'll be officially on your own on the 29th.
Day 1:  Meet at the hotel in Reykjavik for introductions, an overview of the tour, welcome dinner together and an evening photowalk around the city and waterfront.
Day 2&3: Leave for Snaelfells Peninusala and Kirkjafell where we'll photograph a wide variety of coastal landscapes, intimate waterfalls, churches and of course the famed Mt Kirkjafell and surrounding landscapes.
Day 4  Drive to Gullfoss where we'll have the chance to photograph geysers, the mighty Gullfoss as well as an incredible waterfall that is well off the beaten path.
Day 5: We head to Vik, a quaint seaside village with amazing coastal scenery, sea stacks, black sand beach and enormous bluffs with puffins as well as a beautiful church right in town.
Day 6 & 7:  We'll be in the vacinity of the famous Jokulsarlon glacial lagoon and iceberg beach as well as the town of Hofn where we'll be able to photograph the famous Vesterhorn Mt.  We have two days here in order to better our chances at getting a good display of light as well as icebegs on the black sand beach.
Day 8: Drive to Eyvindarholar where we'll be able to photograph the famous Skogafoss, Seljalandsfoss and several other amazing waterfalls in the area.  We'll also spend some time searching for the photogenic Icelandic Ponies, if we haven't already had our fill.
Day 9: Drive to Rekjanes Peninsula where we'll get a chance to shoot some impressive geothermal features, a lighthouse and sunset along the rugged coast.  This will be our last night together.
Physical Difficulty:
There will be no strenuous hiking involved during the tour and most locations will be close to the road.  Some locations, however may involve a short hike of approximately a mile with no serious elevation gains.  We will be spending a lot of time shooting along streams and waterfalls and along the coast which will require scrambling over rocks and down hillsides.  The terrain in the mountains can be very uneven and sometimes slippery along streams and rivers.  Hiking boots and a modest level of health and fitness will greatly enhance your experience.  The weather in Iceland is very unpredictable.  It will be important to dress properly (layers) and have rain gear with you at all times.  Sometimes the best weather for photography is terrible weather for personal comfort.  We will be out photographing unless the weather is abhorrent.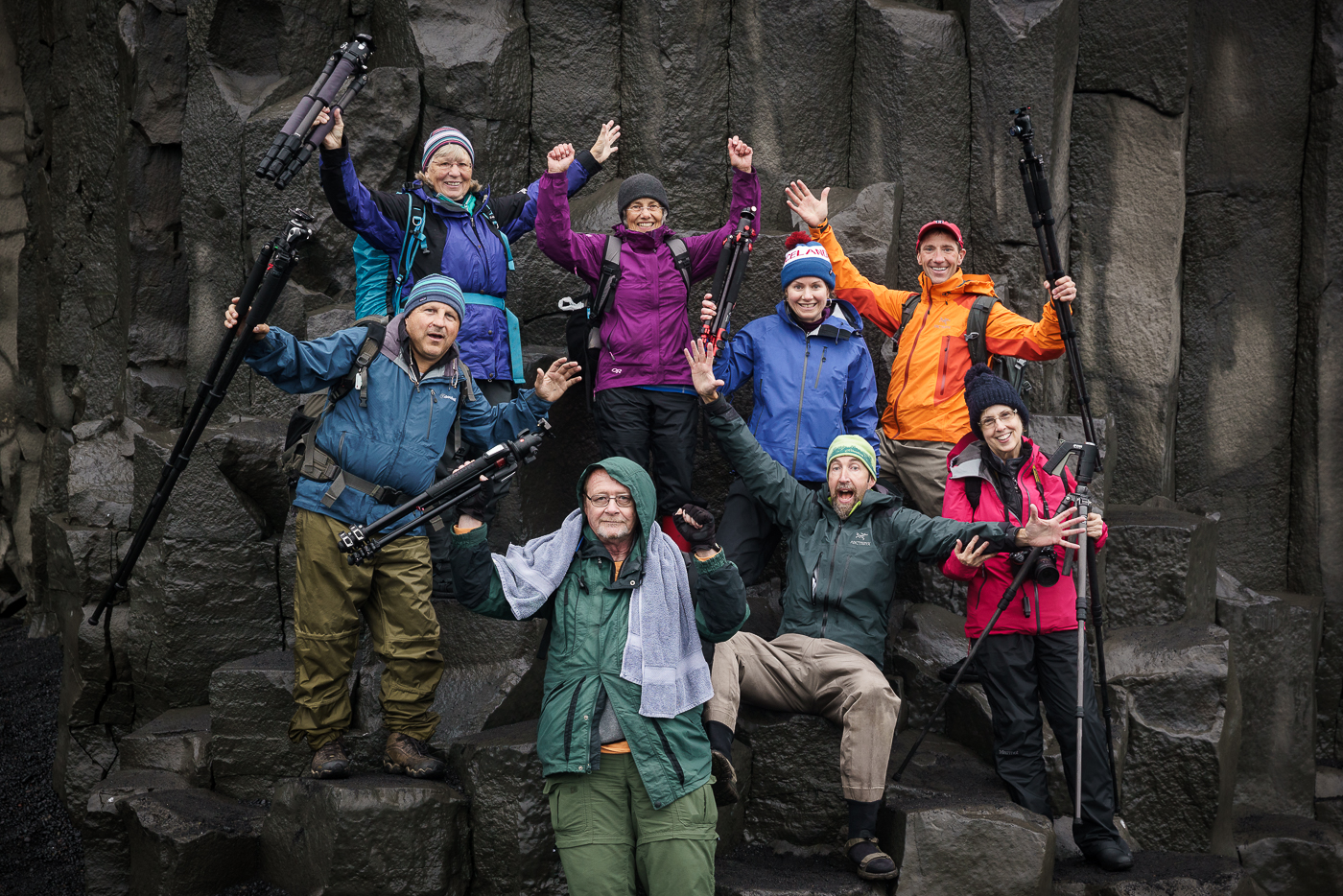 Accommodations, Transportation & Meals:
The tour price includes all lodging based on a shared room (single supplement $850.00) once the tour begins on July 20th. Transportation during the tour is also included.  We will be traveling by small bus or large van which will allow us the convenience of stopping whenever and wherever we'd like to shoot.  The tour price includes daily breakfasts as well as our first group dinner together in Reykjavik.  Otherwise, meals and alcohol are not provided in the cost of the tour.  We will be stopping along the road to eat and most, if not all of our hotels will have small restaurants attached.
Booking:
A deposit of 2,000.00 USD is required to secure a space on this tour.  Final payment is due 90 days prior to the start of the tour.  There is no refund after the final payment has been made (unless we can fill your spot).  Please see our cancellation policy for more detailed information.  Purchasing some kind of travel insurance is highly recommended.